The Perfect Family Vacation
If you're looking for an all-inclusive family vacation experience, look no further than the All Decked Out cabin in Blue Ridge, GA! Located in the beautiful foothills of the Appalachian Mountains, this cabin offers luxurious accommodations and amenities while still being conveniently close to town.
Blue Ridge, GA
Located along Hwy 60 and near a marina, Blue Ridge, Georgia is a mountain town perfect for enjoying family vacations. For a weekend or week-long getaway, renting a vacation rental could be just what you need to unplug from your daily routine. Mountain cabin rentals offer both short-term and long-term vacation rentals that come with everything you'll need for your stay; from wifi to cookware! Tons of fun!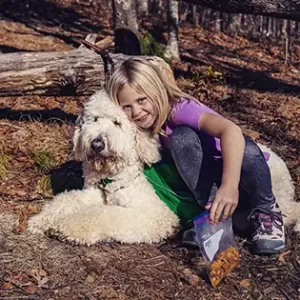 Cabin Amenities
From the hot tub to the fire-pit, there are plenty of entertainment options at the cabin that kept the kids busy. In addition to a game room with pool table and darts, there's also a comfortable couch, a TV and kitchen to enjoy. There are also six televisions throughout — one in each bedroom (or, really six bedrooms) as well as several in other areas throughout the house (including two outside). You can stream directly from your laptop or mobile device on any TV with a HDMI cable, which made it easy to watch Netflix in the evenings. The cabin was big enough for our family but also for our parents that came to visit and stay a couple nights.
Things To Do
During the day we spent time hiking on trails to waterfalls, and visited the stores in downtown blue ridge. In addition to sightseeing, there are plenty of things to do with your family at night. We enjoyed s'mores around a firepit while playing games in our game room. We also took advantage of our hot tub under stars and watched a movie in our living room—it was so relaxing! If you're looking for a cabin rental in North Georgia that can accommodate your whole family, look no further than the All Decked Out Cabin in Blue Ridge, Georgia!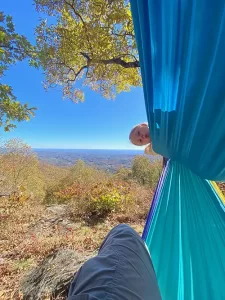 One Night In
While we ventured out most days, we spent several evenings watching movies and playing games in the game room. The kids enjoyed the hot tub while I grilled steaks on the grill overlooking the Blue Ridge mountains. During our stay at All Decked Out, we were able to do a lot of indoor activities like play board games, watch movies and spend time together as a family. There was even a hot tub for relaxing after spending time outdoors hiking around some of the beautiful trails that surround Lake Blue Ridge.
Restaurant Recommendations
In downtown Blue Ridge there are so many restaurants to choose from, but one of our favorite was Cantaberry. They have a wonderful menu with everything you could want for a night out with your family. From soups, sandwiches and salads, they have it all! Our whole family enjoyed their food and we can't wait to go back again soon! There are so many places to eat around town, each place is sure to provide great service and fresh food at an affordable price. The only problem is deciding which location is best! We also really enjoyed Margaritas Mexican Restaurant on Main Street in Blue Ridge, GA. With such a diverse menu, we were able to try new things that had never been tried before. We ordered everything from traditional tacos to fish tacos that tasted like no other fish taco I had ever tried before.
See You in the Fall, Blue Ridge
We're looking forward to visiting Blue Ridge in the fall for another vacation. This time we plan on staying at a different cabin on the river so the kids can fish.